Best Practice #1: 
The FJMC Yellow Candle™ website, www.yellowcandles.org, contains lists of CHILDREN'S NAMES murdered during the Holocaust. Include their names as part of your Yellow Candle remembrance program.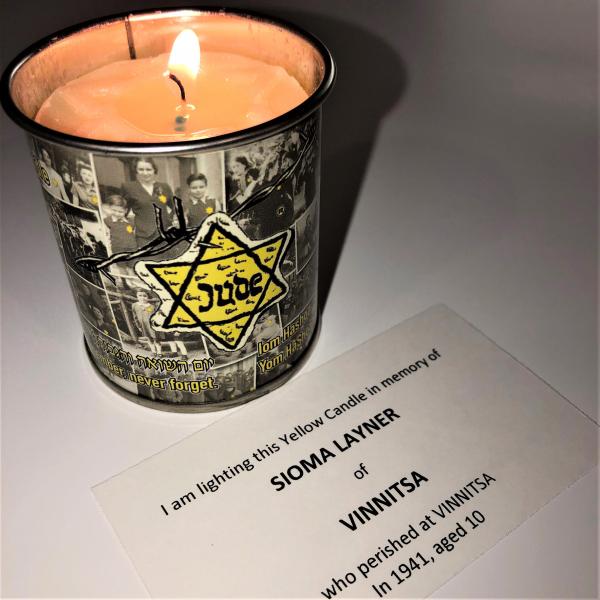 During the Holocaust, the Nazis and their collaborators murdered over 1.5 million Jewish children under the age of 16. Personalize each family's observance of Yom HaShoah by providing every family with the name and homeland of a young victim who may have no surviving relatives to light a candle in their memory.
Another way to include children's names is to mail merge them into the Yellow Candle Meditation letter.  Numerous Yellow Candle Committees – who have used the Holocaust children merged meditation – have experienced an increase in donations from synagogue families with children.
The FJMC website has templates for Avery Labels, mail merged lists, and sample meditation prayers ready to use.
Best Practice #2:
A Yellow Candle committee completely redid distribution through a HAND DELIVERY program which can be easily adapted to your congregation.
1. The congregation's religious school represents 14% of total families. The yellow candle committee worked with the school director to create family name labels by grade. On candle packing day, they used magic markers to boldly mark the bags to get to the correct grades and then delivered them to the school office.
2. The congregation's Chai Society (over 55 years old) programs average over 100 attendees. The committee attends one or two of their programs to distribute candles and delete those names from the home delivery list.  Look for other large groups that meet at the synagogue to hand-deliver the candles too.
3. Home delivery program. Using an Excel spreadsheet, the committee gets the synagogue list by full name with title, family salutation, street, city, state, and zip. Suggestion: have zip as a separate cell. 
4. On the excel spreadsheet, sort by town, or by zip+4, or by easily concentrated communities. A master delivery spreadsheet can be found on the FJMC website.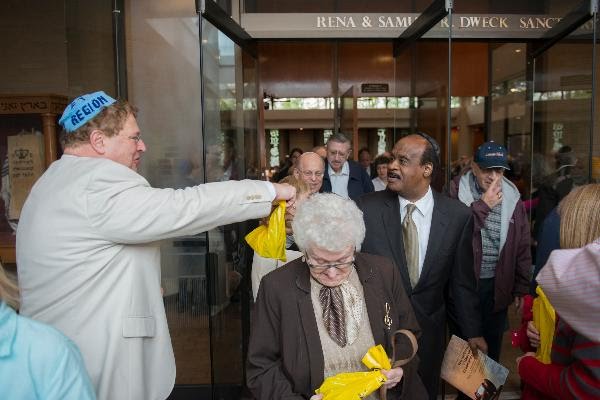 a. To determine the number of delivery volunteers needed, divide the master list by 25. Recruit volunteers from Men's Club, USY, religious school parents and children, and others in the synagogue.
b. Map your delivery routes by using software like  https://www.drivingrouteplanner.com or https://www.myrouteonline.com.
A volunteer can deliver 25-30 candles in two hours with this method, preferable with a helper. The distribution list is sent to the volunteers to help them organize. Envelopes or plastic bags, clearly labeled with each volunteer's name, are preloaded with the correct number of candles, Yellow Candle door bags, and the master delivery list. 
Some candles cannot be delivered because of gated communities and security buildings. Ask your volunteers to bring those back. In turn, mail those Yellow Candles that could not be hand-delivered or make other arrangements with the recipient.
Best Practice #3:
Change your Yellow Candle distribution program from ONE donation request letter to THREE letters using this or your own custom marketing approach detailed here.
1. Have your Rabbi prepare a letter encouraging congregants to light the yellow candle in observance of Yom HaShoah and encourage donations of any amount. The letter should be sent six weeks before the distribution of your candles.
The letter will be more effective if you include the name(s) of the charity of your congregation or club. Sample Rabbi letters can be found at www.yellowcandles.org.
2. With each candle distributed, include a meditation prayer with the synagogue's and Men's Club president's letter. Sample letters and meditations are at www.yellowcandles.org.
a. Personalize the meditation prayer with names of children that perished in the Holocaust. Children's names, birthplace, age, and place where murdered are available at www.yellowcandles.org.
b. The president's letter, inserted with the candles, includes a form for donations.  Sample letters and meditations are at www.yellowcandles.org.
c. Ask all participants to post a picture of their candle lighting to social media. #yellowcandle on Twitter, post on your own Facebook page, and share on #yhyellowcandle and https://www.facebook.com/YellowCandles/. 
3. Six weeks after the candle distribution, a third letter is a positive factor.  Send a reminder request letter to congregants who have not yet donated after having a Yellow Candle delivered to them. You should send the letter with the names of the club president and the Yellow Candle Committee Chair.
Best Practice #4:
While you would hope that all the people who receive the candles will remember to light them on Yom HaShoah, there will be recipients who forget to light them on that day.
We urge you to suggest that if they forgot to light the candle on Yom HaShoah, there are other days (this list is far from complete) in which lighting them would be appropriate.
September 29-30. Babi Yar Massacre of 33,000-Jews
November 9th – Kristallnacht
November 15th – Warsaw Ghetto Sealed
Any day when your congregant has a personal yahrzeit. There were tens of thousands of Jews who had no one to light a candle on their behalf. By the congregant lighting a candle, those victims have not been forgotten.
In addition, you want them to have used the candle so that when, next year, you distribute the candles again, they don't have two candles, and they become less likely to send a contribution.
Follow the below links for information on:
Best Practices to Build a Successful Yellow Candle Program