HWR has now reached its 50th issue with a powerful support from physicians as well as our financial professionals and pundits. Our writer resources are thriving, and we always are looking for more contributors. Dr. Steven Mandel continues to provide new and important perspectives from physicians. Dr. Gary Smith has our financial well being in focus with his articles from his research and experiences and our individual professional contributors also add a perspective to whole life awareness.
To give you a fuller range of insights and to celebrate our 50th issue we are including 5 articles this month. Please scroll or click to each of the articles.
HEALTH TIPS
Mental Health and Substance Abuse/Addiction
Mental health includes our emotional, psychological and social well-being. It affects how we think, feel and act. It also helps to determine how we cope with stress, relate to others, engage in our work and make choices at every stage of our lives. Mental illness describes certain symptoms that compromise our mental health and usually causes disability and personal suffering that is associated with failure to meet responsibilities and function well.
Mental illness includes changes in thinking mood and behavior. It includes mood disorders and anxiety, personality disorders, eating disorders, substance abuse, and schizophrenia. It is a disease of the brain with multifactorial properties.
One in five Americans receives a diagnosis of mental illness during their lifetime. Mental illness is still considered a sign of weakness, a character defect and a moral failure. It brings shame, embarrassment, loneliness and isolation to the patient and his/her family. It is a stigma, which must be confronted, so that the real focus is on recovery and acceptance. Silence and avoidance must be challenged. Mental illness affects the individual and his/her immediate and extended family. We all must learn the early warning signs, such as social withdrawal, changes in mood, behavior and personality and disturbances in eating and sleeping. It becomes imperative to take action immediately for the recovery of hope and health. Depression can result in physical complaints; bipolar moods can cause severe disruption in daily functioning, and anxiety can produce excessive and needless worry, fatigue and difficulty with concentration.
Issues related to mental illness and ones we need to address include: poor family relationships, unstable finances and employment history, legal issues related to illegal drugs, and alcohol, substance abuse related to the abuse of pain medication, the threat of domestic violence and social isolation. Those with mental illness tend to suffer in silence.
Our mission for the Jewish community is to bring the recognition of mental illness from the shadows into the light of hope, prayer and community.
Faith-based communities, such as our Jewish community, are deep sources for social support. Our community JCCs and our synagogues need to create safe and inclusive environments for those individuals and their families who experience mental health challenges. Synagogues must offer respectful sanctuaries where social and spiritual connections can take place. The Jewish community is a center for hope, prayer and healing. Family support networks and social services offered by professional clinical social workers can work with the clergy. As committed congregational members, it behooves us to take on the task of developing programs that promote positive mental health and well-being. We must insist on raising awareness through communication, education, and respect. There is hope. Mental illness is treatable. Access to mental health services will help individuals and their families lead more productive and less isolated lives. The Jewish community can and must take a leadership role towards inclusion and recovery.
Resources:
Elijah's Journey, a Jewish response to suicide awareness and prevention

National Alliance for the Mentally Ill (NAMI),

Jewish Associates for the Mentally Ill [JAMI]

Union of Reform Judaism Department of Jewish Family Concerns.

BENAFSHENU Building Bridges to Recovery, and Faith Met.

Mental Health First Aid
Steven Mandel, M.D., CIME, CHCQM-WC, Heidi Mandel PhD, LMSW (hmandel1@aol.com)
'PVD' stands for peripheral vascular disease, which is often used synonymously for 'PAD' (peripheral arterial disease). While PAD is a subset of PVD, the vascular system also includes veins and lymphatic vessels. These can also be compromised leading to varicose veins or lymphedema. In this article, we will spend some time discussing peripheral arterial disease.
The two biggest causes of peripheral arterial disease are diabetes and smoking.
While the association between smoking and cancer is well known, smoking can damage blood vessels as well. This can either lead to aneurysms or atherosclerosis, causing narrowing or complete blockages of the arteries going to the legs. This can cause pain in the legs while walking as well as impotence in males if the arteries in the pelvis are involved.
Diabetes damages the arteries and nerves in the legs. It predominantly causes narrowing or occlusions of arteries in the calf. Additionally, diabetes can damage the nerves going to the feet, causing burning pain or numbness. This, when combined with the arterial damage, contributes to diabetes being the number one cause of amputations in the United States.
What should you watch out for?
Often, you have no idea the arteries are being damaged until you develop symptoms. The first thing to develop is what we call claudication. There are three basic components of claudication being attributable to arterial blockage. They are: pain in a muscle group when exerted, the pain goes away when you stop walking, and the pain is reproducible. This is analogous to angina, or chest pain. When you stress the heart, or leg muscles, they need more blood flow to provide increased oxygen and nutrients to the muscles. When you have blockages in the arteries to the heart or legs, the arteries can't provide more blood flow, even when stressed. When the demand for oxygen exceeds the supply, pain develops.
The more significant the blockage, the less exertion you need to develop the pain. While some may be able to walk a while before developing pain, those with more severe disease may be able to walk a block or less before developing pain. In more severe cases, the patient may have pain even when not exerting himself/herself, this is termed rest pain. This typically occurs at night when the legs are elevated on the bed, as you don't have gravity helping to pull blood down to the feet. In its most extreme form, the blood supply is so bad that there is not enough blood flow to maintain the integrity of the skin, and ulcers develop. These ulcers can frequently become infected, and will not heal.
What can you do about it?
The good news is that if peripheral arterial disease is recognized and treated early, the outcomes are pretty favorable. At 5 years, there is less than 1% risk of requiring an amputation. 8 out of 10 will not have any worsening of their symptoms. It is important to realize that the damage in the arteries to the legs can also occur elsewhere in the body, particularly the heart and the arteries going to the brain. There is a 1-3% annual risk of a heart attack. As such, the disease process should be treated to prevent heart attack or stroke.
The most important first step is to control the underlying cause. If you smoke, then stop. If you start smoking again, stop again. Many smokers 'quit' several times before they are able to quit for good. But the sooner one stops the smoking, the less ongoing damage the arteries have to endure. If you have diabetes, see your primary care doctor or an endocrinologist. Make sure you have undertaken the necessary lifestyle and diet changes, including medications if needed, to keep you HgA1c at a normal level. As with smoking cessation, this will help diminish additional damage to the arteries. If you have diabetes, you should also see a podiatrist regularly, making sure your feet are healthy and are not developing ulcers.
The next step is to exercise more. A walking regimen has been shown to increase pain free walking distance. Walking consistently, by walking until you develop the pain, stopping, then restarting after the pain has dissipated, will help the body make additional blood vessels.
Regarding medications, the mainstay of treatment is an Aspirin and a 'statin' (cholesterol lowering) medication, to help prevent any progression of atherosclerosis. There is another medicine called Cilostazol or Pletal, which can increase pain free walking distance.
What makes us so passionate about peripheral arterial disease is how profound it can impact your life. Imagine only being able to walk a block before having pain, to the extent that you can't walk your dog, get groceries or work. Having rest pain or ulcers that won't heal can be even worse. PAD can have a profound impact on your life, but early recognition of it, and prompt treatment can halt progression and lead to improvements in quality of life. If those measures fail, as vascular surgeons we are able to help further. Minimally invasive approaches using balloons and stents can often treat the narrowing in the blood vessel, similar to how they are used in the heart. If the vessel is completely blocked, we can perform surgery, usually a bypass, to re-route the blood to where it needs to go. This can help alleviate the pain and help ulcers to heal.
There are other causes of peripheral arterial disease, including chronic kidney disease, autoimmune diseases, arterial dissections, and others. So if you have symptoms of claudication in the legs, even without a smoking or diabetic history, you may want to see your primary care doctor or a vascular surgeon for further evaluation.
Ryan S. Suplee, M.D., R.P.V.I.
Attending Vascular Surgeon, Lenox Hill Hospital
Board Certified, Vascular Surgery

Allan Conway, M.D., R.P.V.I.
Attending Vascular Surgeon, Lenox Hill Hospital
Associate Program Director, Vascular Surgery Residency
WEALTH TIPS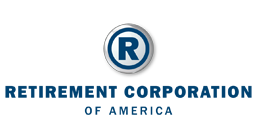 We would like to thank our sponsor RCA, Retirement Corporation of America. They have graciously been our primary sponsor for the last 2 years.
A Primer on Insurance Planning – David Kaplan
Consider your personal insurance buying experience. Maybe some part of the following hypothetical insurance buying story will resonate with you. I call this Shoebox Planning because you throw policies in a shoebox and hope you never need them. You...
Buy a car – get car insurance.

Rent an apartment – get renter's insurance and, if you someday buy a house, change to homeowner's insurance..

Get a job - get your own medical insurance and maybe life and disability insurance as well. You might also be eligible for a 401k or an IRA.

Have and raise kids – get life insurance.

Become an empty nester – think about Long Term Care Insurance but defer it until you finish paying college tuition.

Near retirement – reconsider Long Term Care Insurance, learn about Medicare and Medicare Supplements, learn about different kinds of annuities.
For some, the contents of the shoebox might be a perfect mix of insurance contracts. For most, there should be a careful match of your individual financial profile to policies created to protect your financial goals from life's' adverse occurrences.
Insurance protects the content of your wallet, including your net worth and your future earning capacity. It should fill the gaps when life's events ruin your well laid financial plan. Its critically important to understand there is no difference to how much of your wealth is exposed based on cause. You have just as much to lose from a lawsuit against you resulting from an at-fault auto accident, a trip and fall on your sidewalk, or unexpected costs after an accident or stroke leave you incapacitated. My job is to help you identify the risks and to prepare for them.
You might have accumulated a substantial nest egg in your 401k but if the stock market takes a dive the year of your retirement or if Congress gets responsible and raises income tax rates to rebuild our faltering infrastructure just when you plan to retire, how much of that accumulation will you actually have to spend?
What if you're injured and can never work again? How will you replace the lost income to your family? How will you continue to fund college and retirement plans? How will you pay for someone to take up the slack in your household responsibilities, or, even harder to consider, how will you pay for someone to dress you and to feed you?
In my world, I listen to people's dreams and aspirations and help them identify what can go wrong. We look at alternative funding scenarios to fulfil their family's dreams even when disaster strikes. Sometimes my recommendations have nothing to do with insurance. Sometimes they do.
Ten Disruptive Israeli Companies that can Wean the World Off Fossil Fuels
Solar, water, geothermal and wind power, battery techs and electric-car components are areas where Israelis are leading the renewable revolution.
By Abigail Klein Leichman, October 19, 2017 from ISRAEL21c.org
Everyone knows that fossil fuels are an unsustainable source of energy, dirtied by pollution and politics. But global attempts to find alternatives on a mass scale have had limited success.
Could Israel be the country that finally puts fossil fuels to rest with the dinosaurs?
"When we talk about killing fossil fuels, Israel is not yet seen as tops in the world, as we are in water or cyber technologies. But in each related niche — solar energy, battery technologies and electric car components – there is tremendous respect for Israeli companies," says clean-energy activist Yosef Abramowitz, aka "Kaptain Sunshine," whose Energiya Global social development company is bringing solar power to Africa.
Two early solar-energy pioneers founded in Israel, BrightSource Energy and Ormat Technologies, are now headquartered in the United States with myriad international projects to their credit.
BrightSource built the world's largest solar electricity generation installation, in California, using nanoparticle coatings developed at the Hebrew University of Jerusalem. Ormat built one of the world's first solar-power fields, near the Dead Sea, and is a leading geothermal and recovered-energy generation producer.
Although Israeli electric-vehicle (EV) network Better Place had great disruptive potential, its bankruptcy in May 2013 dashed those hopes. Yet Abramowitz says the mega-fail led to something positive.
"Better Place spawned a whole industry of 500 [Israeli] startups in the automotive sector, largely related to electric cars and the software and hardware that will kill the combustion engine," he tells ISRAEL21c.
In 2011, the Israeli Prime Minister's Office launched its Alternative Fuels Administration and Fuel Choices Initiative, aiming to implement government policy and support for fuel alternatives research and industry that can serve as a model for other countries while helping reduce Israel's dependence on oil for transportation.
Since then, the number of alternative fuel research groups in Israel has grown from 40 to about 220 and the number of companies in this field to about 500. Globally, renewable energy is a $359 billion dollar business.
ISRAEL21c takes a look at 10 Israeli companies trying to accelerate the end of fossil fuels.
1. Aquarius Engines
This Israeli startup is reinventing the combustion engine to power the "series" hybrid EV car of the future. The lightweight Aquarius engine has a single-piston linear engine. A cylinder moves the fuel from side to side to generate electrical current, much like sea waves can do through an up-and-down movement.
A car fitted with the Aquarius engine would have a range of 1,200 kilometers (745 miles) per 50-liter (13-gallon) tank, which would have to be filled every five or six weeks.
Aquarius is working with Peugeot to test its engine in a concept car. The company also is developing a lightweight portable generator based on its technology.
2. Brenmiller Energy
Founded in 2012 in Rosh Ha'ayin, Brenmiller Energy has created products for renewable energy including a thermal storage system that hybridizes any power source — wind, solar, biomass, nuclear, natural gas — to provide reliable, clean energy anywhere.
The B-Gen unit's first cycle transfers the heat coming from different sources; the discharging cycle delivers steam on demand on a megawatt or gigawatt scale. Commercial projects are underway in several countries. Founder Avi Brenmiller was involved in solar power plant design in Spain and in the United States through the Israeli company Luz Industries, acquired by Solel and then by Siemens.
3. Doral Renewable Energy Resources Group
Doral, of Ramat Gan, was the first company to connect a solar PV system to the national electricity grid, back in 2008. Its several branches operate renewable energy projects (natural gas, biogas, wind, solar) throughout Israel, especially in kibbutzim in periphery and rural areas, including what will be the largest (170 megawatts) PV power plant in the Israel.
Doral recently entered a joint venture agreement with Invenergy, the largest privately held electricity producer in the United States. Doral is planning to introduce advanced means of electricity production, storage and smart grid solutions to eliminate the need for external electricity suppliers.
4. Eco Wave Power
The Tel Aviv-based company's proprietary technology extracts energy from ocean and sea waves and converts it into affordable, zero-emission renewable electric power. EWP has projects in various stages in the United Kingdom, Gibraltar, China, Chile, Israel and Mexico.
5. ElectRoad
ElectRoad of Rosh Ha'ayin, founded in 2013, is developing a smart transportation technology for underground electric coils that recharge EVs wirelessly as they travel. Its Dynamic Wireless Electrification System would initially be implemented for electric public buses. The revolutionary technology reduces the need for a large battery and for recharging or refueling the vehicle during the day.
6. Energiya Global
This Jerusalem-based renewable-energy developer will invest $1 billion over the next four years to advance green power projects across 15 West African countries. Energiya Global and its associated companies developed the first commercial-scale solar field in sub-Sahara Africa in Rwanda, and broke ground on a similar plant in Burundi that will supply 15% of the country's power. Energiya Global now has fields at various stages of development in 10 African countries.
7. H2 Energy Now
H2 Energy Now is building a prototype battery-free solution for storing and increasing the usability of alternative energy from intermittent sources – sun and wind – to meet times of peak demand reliably. Radio waves separate water into hydrogen and oxygen and then recombine them in a fuel cell when energy is needed. H2 Energy Now is in the finals for several contests and is in talks with worldwide energy corporations.
In addition, the company was one of four winners of the AES Corporation's 2017 Open Innovation Contest, held in Washington, DC, for designing a ceramic drone enabling unmanned inspection solutions for extreme heat environments in the global power industry.
8. New CO2 Fuels
Founded in 2011, NCF is raising funds toward a working model of its technology to transform two waste streams — industrial water and carbon dioxide — into a hydrogen-carbon monoxide synthetic gas, which is then turned into liquid fuels, plastics and fertilizer. The conversion process is fueled by concentrated solar energy or byproduct heat from the industries themselves. NCF signed a cooperative agreement with Sinopec Ningbo Engineering to address carbon dioxide pollution in China.
9. Solaris Synergy
Solaris Synergy of Jerusalem developed a solar-on-water power plant that converts a water surface into a cost-effective and reliable solar-energy platform. Solaris and Pristine Sun of San Francisco received a BIRD grant to collaborate on a utility-scale floating photovoltaic solar energy system to be installed in California. Last October, Solaris installed a 100kWp Floating PV system on a reservoir in Singapore. Recently, Solaris formed a partnership with Electra Energy to plan large projects in Israel.
10. StoreDot
Electric vehicles can never be mass marketed unless they have batteries that store a charge longer, weigh less and charge up faster. StoreDot of Herzliya concentrates on fast charging. In June, City A.M. ranked StoreDot No. 1 on its list of the 100 most disruptive startups in the world.
StoreDot is developing a pack for EVs comprised of hundreds of its proprietary EV FlashBattery cells. Together, the cells take only five minutes to charge fully and provide up to 300 miles (480 km) of driving distance. In addition, FlashBattery is environmentally safer than a lithium-ion battery, utilizing organic compounds and a water-based manufacturing process.
How long will this Housing "Melt-Up' last? by Gary Smith sourcing Stansbury Research
While actual spending is up, confidence remains high as well. That suggests that spending will keep rising so long as consumers stay happy. Right now, they are happier than they've been in nearly two decades...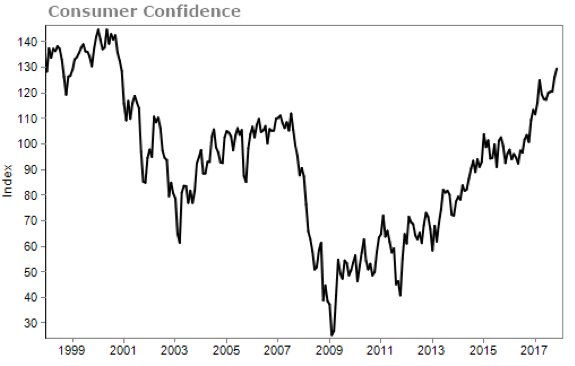 As the biggest part of our economy, the experts believe there's no better sign than a confident consumer. That means new home sales have hit their highest level since October 2007. And as you can see in the chart below, it has been a consistent climb since the bust in 2008. Still, now that it's here, we have no reason to think this boom will end anytime soon. We are in the 9th inning of the longest bull market in history. This could last till 2020. We have had no correction more than 20 % during this historical run.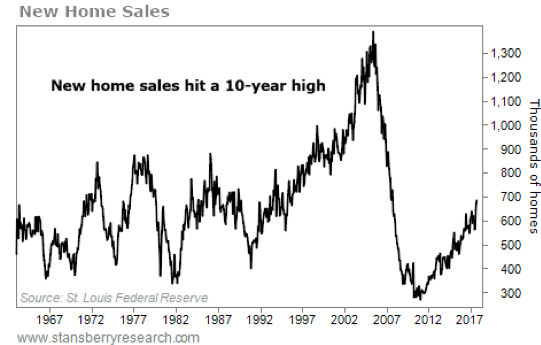 New home sales recently hit a multiyear high. And supply and demand says prices can still move dramatically higher in the years to come.
To explain... Make no mistake about it... We're smack in the middle of another U.S. housing boom. October's housing data came out recently. New home sales hit a 10-year high... and increased nearly 19% over the prior year. That means new home sales have hit their highest level since October 2007. And as you can see in the chart below, it has been a consistent climb since the bust...
New home sales have risen every calendar year since 2010. And that's nearly certain to happen again this year. Still, sales are just getting back to "normal" levels today. October's new homes sales rate was slightly above the average since 1965. But the strong trend means we could see sales continue to move higher in the coming months.
It's not hard to figure out what that increased demand would mean for prices... Supply of new homes is low. We have several ways to measure that. But the simplest way is to look at housing starts – the number of new homes being built. Starts have been on the rise in recent years. Yet they're still significantly less than "normal" long-term levels...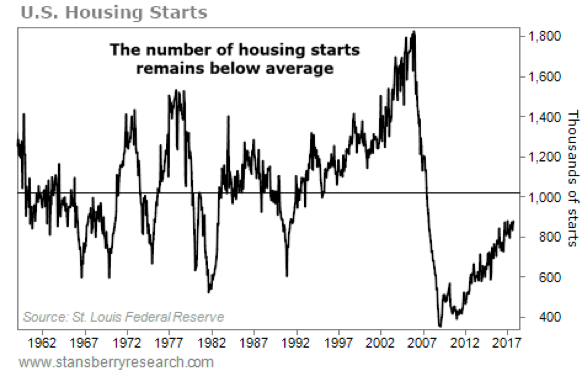 Housing starts are increasing, but they're still low. That paints a clear picture for house prices... We have low supply... and a 10-year high in demand based on new home sales. What happens next is Economics 101. Low supply plus high demand equals dramatically higher U.S. housing prices.
I'm sure I sound like a broken record... I've been bullish on U.S. real estate since 2011. But the opportunity today is enormous... Most folks think they've missed it... They think this boom will end like the last one did – and soon. It probably will go on for a while. All the news is good but caution is always prudent. Wise to keep 15-20% in cash. A correction may be imminent.
This analysis says you want to own housing and real estate now. The boom is here. But the fundamentals are healthy and stable. That's why I believe we'll see years of upside before buyers have anything to worry about. There are many ways to play this real estate market. Several FJMC members are actively buying – fixing up – and selling houses. Check with your financial manager to find the best strategy for you and your family.
I hope you enjoyed part of the melt-up idea. Next month we will try to focus on a couple of surging trends.
Information gathered came from Stansberry Research. Stansberry newsletters and Dr David Elfrig have worked very hard to bring these ideas to there investing members.
If you have any questions please contact Gary Smith at gvet@me.com or Richard Gray at rgray@fjmc.org
This issue is prepared by a bunch of guys who are continuing to GIVE BACK to FJMC. We invite you to also give back to FJMC through your participation and most importantly through donations supporting FJMC as Friends of FJMC. Participate by clicking on "Become a Friend of FJMC" on www.FJMC.org or contact Gary Smith at gsmith@fjmc.org.
Richard Gray, an FJMC donor, past FJMC international officer and past New England Region President who likes to hang out with great guys and finds FJMC a good place to work to make a difference. He and Gary Smith lead the Wealth Management initiatives in FJMC and are part of the group building Family Conversations.

Gary Smith, past International Vice President, an FJMC donor, is Co-editor of the HWR newsletters as well as being an FJMC donor he is Chair of the Foundation for Jewish Life.

Dr. Steven Mandel, FJMC Member, our Medical Editor from Lenox Hill hospital in NY.

Mark Druy, past FJMC International Vice President, past New England Region President, and an FJMC donor, is the Publisher of this newsletter.
Send your comments to Richard Gray at rgray@fjmc.org. We want to hear from you. HWR is a publication of the FJMC.
We hope that you enjoyed this issue and will consider sharing with other members of your club, family, and friends. Ask them to opt-in and receive this newsletter. We are building a nice following and appreciate your support. Dr Steven Mandel is our Medical Editor and Richard Gray and Gary Smith write the wealth articles. We are looking for guest writers; if interested please contact with Richard or Gary. If you're receiving this from a friend forwarding you the newsletter, you'll need to 'opt-in' to receive this newsletter. To opt-in, and receive this bi-weekly publication, click on the following link, and provide us with your email address: https://fjmc.org/civicrm/mailing/subscribe?reset=1&gid=1302.
---
Email sent at approximately 8:30 pm, February 8, 2017

LEGAL DISCLAIMER: This work is based on current events, interviews, corporate press releases, and what we've learned from several mentioned health and wealth newsletters. It is also based on some personal experiences. It may contain errors and you shouldn't make any investment decision based solely on what you read here. It's your money and your responsibility. FJMC is not making specific recomendations of stocks or bonds just possible ideas that might be considered for research and investing purposes. This information is being provided for informational purposes only.
FJMC - Federation of Jewish Men's Clubs - Involving Jewish Men in Jewish Life. The FJMC involves Jewish Men in Jewish Life through Leadership Innovation Community