The 2013 Program Fair will feature excellent Club,
Regional and International Programs.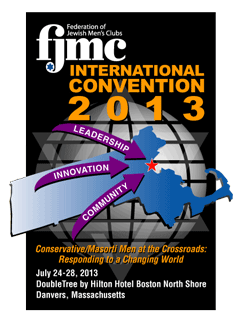 Question: Where can you teach your initiative worldwide? Where can you solve your club or your region's problems and not walk more than 500 feet to do so?
Answer: At the Convention 2013 Program Fair!  The Program Fair is your best opportunity to bring fresh new ideas for launching or re-envigorating programs like Yellow Candle Drive, Hearing Men's Voices, Outreach, Fundraising, and Man-of-the-Year back to your club and region in addition to learning about many new programs and activities.  At the fair, you'll be able to speak one-on-one to FJMC members who have designed and championed many successful programs!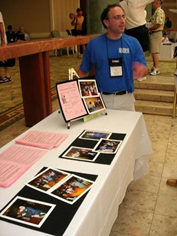 If you were at the 2011 Program Fair at Costa Mesa, California, you would have…
…been moved by Hank Needle and Steve Krodman of Etz Haim, Marietta, GA's Yom HaShoah observance that lit hundreds of Shoah Yellow Candles and maintained an all night vigil of solemn remembrance…
…gleaned pearls of wisdom from Senior Mentschen Paul Davidson and Neal Fineman of Temple Israel, Sharon, MA's Hearing Men's Voices Program entitled Sanctuaries in Time. This Gold Torch Award winning program explained the significance of parts of our ritual so that whatever your level of observance, you would deepen your understanding.
…learned how Marshall Rubin of LA's Adat Shalom feeds the poor week in and week out with food that local grocery stores would have discarded.
…stolen New England Region's Temple Israel of Natick David Singer's idea for the Hebrew Word of the Week, and increased your club's stature at your congregation…
…been wowed by Congregation Beth Shalom, Northbrook, Illinois Men's Club's Sefer Haftorah program. As of the last convention, President Harvey Redfern reported $270,000 raised to benefit their synagogue. Do you think that might be a popular club?
…met with former New England Regional President Mark Druy and learned the ins and outs of staging a regional Man of the Year event…
…met with former FJMC International President Mark Berlin and learn how to maintain officer succession at your club…
And if you did not make it to convention, then you may have seen many of these events and more via Bob Watts' live stream of the event using the technology that earned Olam Tikvah, Fairfax, VA a gold torch award, "Almost as Good as Being There."
Whether you want to learn how to attract younger men to your club, share your club's great programs, or learn many more ways to heal the world, you can get all of this and more at the 2013 Program Fair at the FJMC International Convention: Conservative/Masorti Men at the Crossroads; Responding to a Changing World.
Contact convention@fjmc.org to learn how your club can be a part of this important event.