Take advantage of FJMC's many successful initiatives today.  "Sample and Calendar" are the operative words – use as much of this calendar as you like.  This sample calendar prompts you with the leadership, innovation and community thinking to run really great initiatives throughout the year.
How do you integrate?  
Click to download Excel (xls) file. Click to download pdf.  Check back for updates.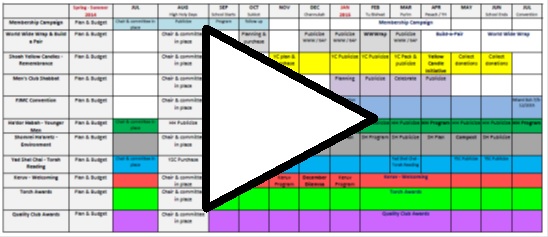 Clubs generally need to place annual activities on your synagogue calendar during the summer prior to the fiscal year.   Extensive planning, budgeting and volunteer opportunities go into these decisions. New volunteer opportunities present themselves to you.  This one-stop sample calendar offers a big picture about International, Regional and Club-wide programming. 
The Regional leaders are encouraged to plan at least two years in advance.  Also distribute your program calendar at least one year in advance before the summer. This long range planning is important so your clubs can then plan their events without conflicting with the region's calendar. 
Regional Leaders are the eyes and ears ensuring that each club has access to the basic tools to run a successful program. 
Regional leaders have close access to the International Program Leaders. They may offer suggestions.
Regional leaders encourage club leaders to submit for Torch Awards and Quality Club Awards. These awards provide recognition to clubs for excellence in programming and overall club activities.
If you have suggestions, please consult with your own club President. Your actions are where FJMC learns about new and successful initiatives.  FJMC proudly highlights excellent club programs. 
Alan Budman, FJMC Vice President and Bruce Tomar, FJMC Vice President and Programming Chairman