Men's Club:  All-in or Fold? by Doug Koltenuk
Our Temple Israel of Natick, MA Men's Club ran Texas Hold 'Em poker games four times a year.  Since we kept the game to our temple's Men's Club only, turnout was at most around 15 people, but enjoyment levels were high. We had a $20 buy-in, and the top four winners got money back based on the take. A portion of the money went to the Men's Club—not a huge amount, but technically it was a "fund-raiser" for the club.
After the start of social-distancing, I thought that poker was an activity that could persist through the shutdown, so I looked at platforms through which we could connect. Most poker sites do not have social poker capability, or if they do, they are limited to 4 people. I found three sites with capability for a large social game, and they each have their own plusses and minuses. All games required a separate Zoom connection in order to be able to talk while playing.
The first one I tried is Easy Poker. This is a site devoted to social poker: there is no capability to play a solo game. The site is membership-based, meaning that the more you pay, you get more time and/or more people at your table. I bought a membership that allowed for 12-person games costing $40. We had one game with the Men's Club. There was great interest; the table of 12 was full. However, the game play was uneven. One major weakness of the platform is that players were arranged linearly such that only two players were displayed at a time. It was very hard to keep track of other players' stacks. Also, unless players spoke their bids aloud, you could not know who bid what. The most annoying feature is that there was a lack of connection stability for some players. Constant dropouts significantly slowed the game. The general opinion of the game was that the players were not happy with the platform.
I then looked at Tabletopia, a platform that hosts hundreds of games in player-driven formats.  For poker, this means that the only thing that the platform does is shuffle and deal the cards. The set-up is closest to an actual card game as far as what the players have to do. However, understanding the controls is not trivial. The biggest drawback is that actions have to be taken one at a time, meaning chips have to be bet one at a time by moving them from your stack, and cards have to be returned one at a time by dragging them back to the deck. The game would be a factor of 4 longer than an automated game.  Tabletopia was not suitable for the Men's Club.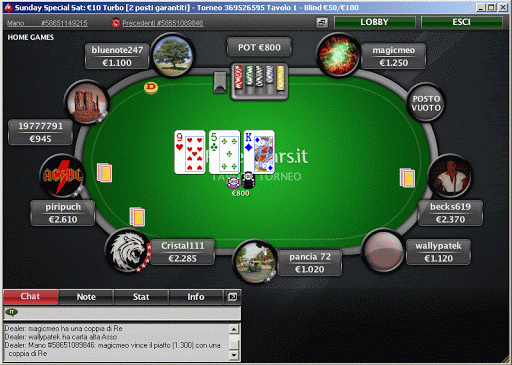 Next, I turned to PokerStars. I was resisting this platform because it required download to a PC, while I was hoping for a mobile platform. After download, I had to set up a "club" with two numbers associated with it: a club number and an invitation code. Any player could ask for permission to enter with those two codes. It was up to the club owner to accept or reject entry requests. One confusing aspect of the platform is once a game is set up, multiple messages are sent to the club owner. The messages look similar, but only one has the information needed to join the club. I sent out the wrong one.  Also, I did not remind people that they had to download to a PC, and a number of players tried to get to my club through an app, which was impossible.  Basically, the first game was a disaster, but eventually four players made it to the table, and the game itself was very smooth. The play was so enjoyable that PokerStars will definitely be the platform of choice going forward. There is an option to play for money providing that players make Venmo deposits.
Poker is a great way for Men's Club members to connect during isolation. It is social, competitive, and fun. If your club has had poker games in the past, I recommend setting up recurring games for the time we are forced to be physically separated. If poker is new to your club, now is a great time to start. It could also be a fundraiser for your club during this time when there are so few other opportunities.
Doug Koltenuk is a former president of Temple Israel of Natick Men's Club. He is also a Keeper of the Flame recipient. Doug has been a member of the Men's Club for 13 years, and has been involved with leading the Men's Club poker game for around 5 years.