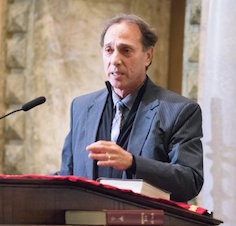 As you may know, Rabbi Charles Simon will retire from his role as FJMC Executive Director after the International Convention in July. FJMC is putting together a Festschrift which will provide a historical perspective on the impact Rabbi Simon and the FJMC have had on the Conservative movement over the last 35 years.
We who love and respect Rabbi Simon and his contributions to Conservative Masorti Judaism through his leadership of the Federation of Jewish Men's Clubs are invited to honor and give tribute, and thank him for making a difference in our lives.  His vision and mentorship has provided us with the support to be the leaders of the Conservative/Masorti movement in the 21st century.    We also now acknowledge that FJMC through Rabbi Simon has become important to the Men of Reform Judaism as they rebuild with the vision and support of FJMC programming and resources. 
FJMC Biennial Conventions are the highpoint of each administration and the time to showcase its training and initiatives that support liberal Judaism primarily through FJMC affiliated clubs.  As we prepare the Festschrift we also note the importance of FJMC in ways that sometimes transcend the club structure in outreach through Keruv, in promoting discussion of important evolution of the values of our movement, in support for International Masorti Judaism and in many other ways.
With this note we are asking that the special people in Rabbi Simon's life and those who value his contributions become benefactors of this remarkable publication:
  "ONE STEP AHEAD"  The FJMC's impact on Conservative Judaism
FJMC can only carry forward the work of Rabbi Simon of these past 30 years with your generous gifts.  As a guide we have created the following donor levels.  Contributions at the listed levels will be acknowledged in the book.  If you would like to offer a tribute to Rabbi Simon but are comfortable with a smaller gift, please contribute through postings of appreciation in the convention tribute book here or by entering the following address in your browser:
https://www.wizevents.com/register/register_add.php?sessid=8128&id=5021.
Donors to the Festschrift will be recognized in the convention tribute book as well.  Your support of the book will enable the FJMC Foundation for Jewish Life (FJL) to distribute these funds to FJMC over a three year period.  These funds will also allow Rabbi Simon to continue his work on behalf of FJMC to coordinate our efforts with the Seminario in Latin America and promulgate Conservative/Masorti Judaism around the world.
Contribution Levels:
(Please make checks payable to "FJMC FJL Simon Tribute Book" and send them to the Foundation for Jewish Life, c/o Stephen Neustein, Treasurer, 124 Gilda Avenue, Pittsburgh, PA 15217 ; Phone: 412-422-2782 )
21st Century Diamond Level: $25,000+
21st Century Platinum Level: $15,000 - $24,999
21st Century Gold Level: $10,000 - $14,999
21st Century Silver Level: $5,000 - $9,999
21st Century Palladium Level: $2500 - $4,999
21st Century Tribute Level: $1,100 - $2,499
Thank you….
Please contact Dr. Gary Smith with any questions at gsmith@fjmc.org
With appreciation,
Chairs,
Richard Gray        
Dr. Gary Smith
Aaron Altman
Alan Budman
Dr. Bob Braitman