We need our older and younger members in our clubs.  They bring differing perspectives to involving Jewish men in Jewish life.  The diversity of ages contributes to innovation in developing programming that better connects people of all ages in the community.  Community entails forming meaningful, long-lasting relationships based on comraderie, common threads and core values.  Though we pride ourselves in attracting members of all ages, many clubs feel they need particular help with attracting younger members.  And so, we are in process of developing this page to highlight ways that your club can attract younger members.  Some ideas follow:
---
Attracting New and Younger Men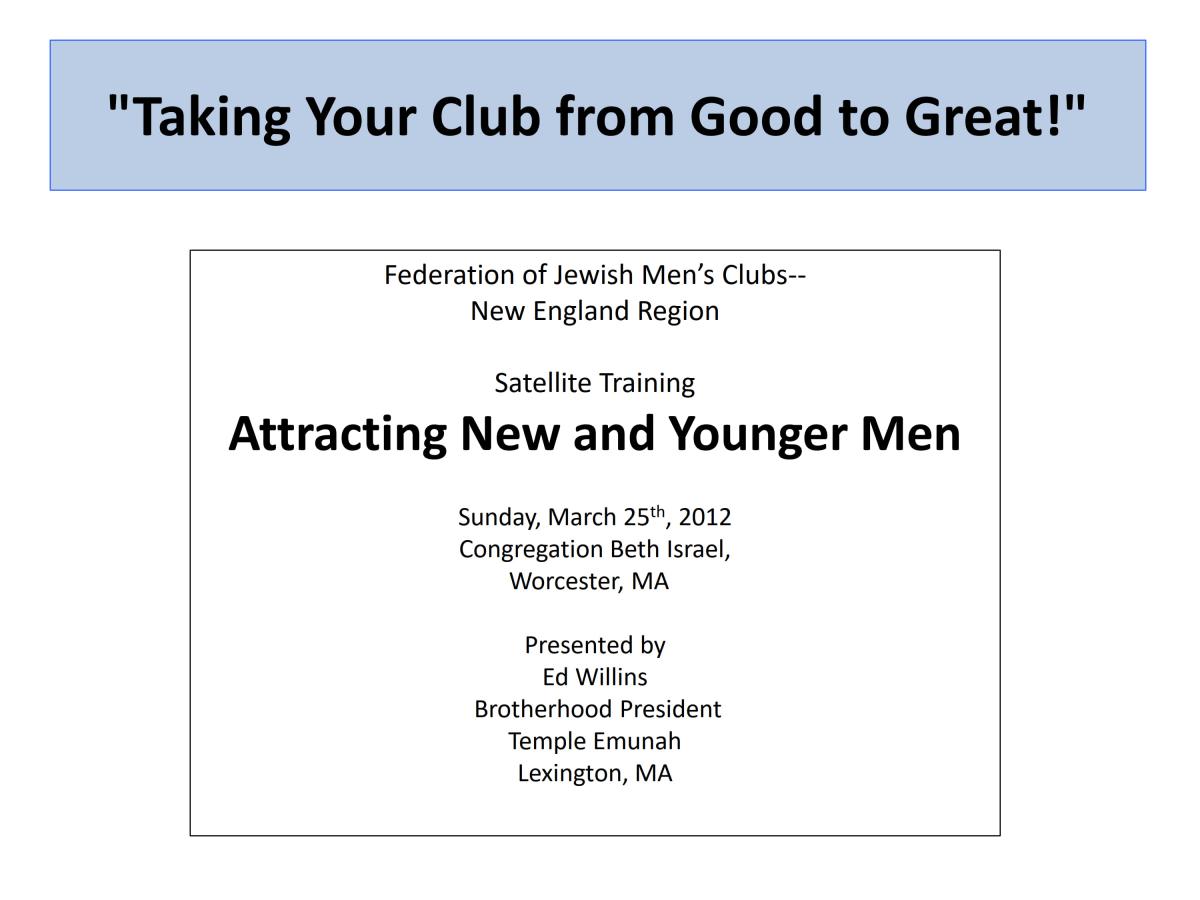 Download: PDF copy or PowerPoint copy.
---
How to Draw Young Men to Your Men's Club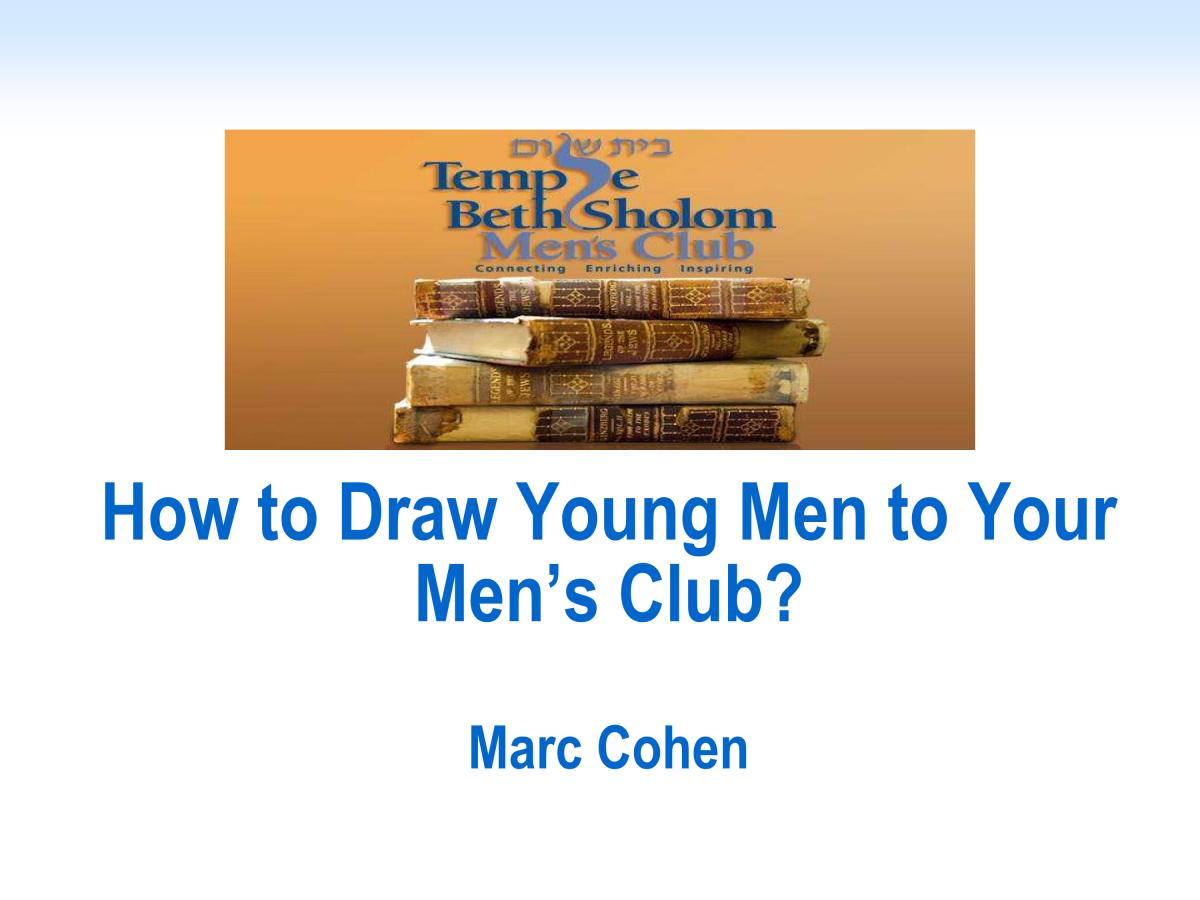 Download: PDF copy or PowerPoint copy.
---
Attracting Younger Members Ideas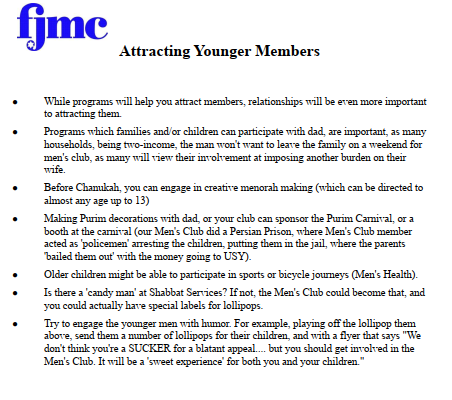 Download: PDF copy or Word copy.
---
TED talk - Attracting Younger Men to Your Club and Region - How to Do It and How to make it successful.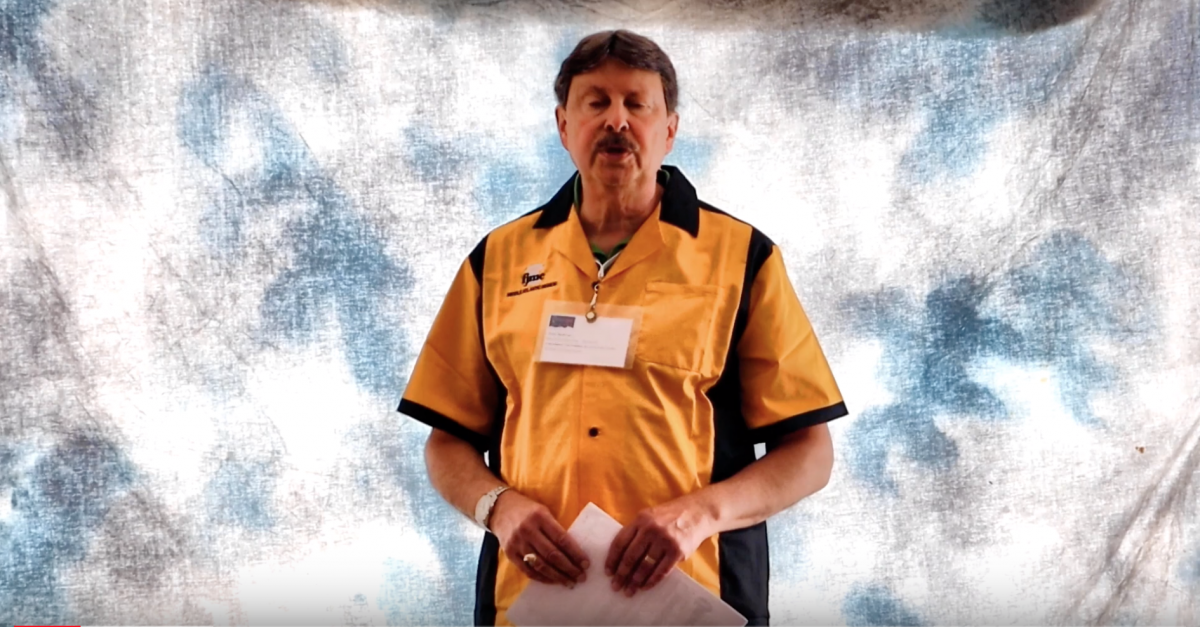 First Vice President Alan Budman speaks about attracting younger men to club and regional events, and how to get them to step up to leadership roles.  [Video length 6:17]
---
Oylympics
One of the award winning FJMC Torch Awards for attracting younger men is Oylimpics.  This celebrates physical fitness in some events, Jewish knowledge in others, and just plain old fun team-building events in others.  A DJ is hired and food is served as youth of all ages compete in a fun-filled experience in over a dozen events that the kids sign up for.  Parents get into the action as well as side splitting fun punctuates with exciting competitive and communal games.  More details may be found here. (Log in required to view Torch Awards.)
---
Sponsor Kiddush for your Tot-Shabbat Program
Your club could sponsor the Kiddush for your Tot-Shabbat program. This earns you the right to drop into the program to meet the fathers as well as make announcements about Men's Club events. This ensures that spouses are also aware of our programs and may encourage their other half to attend. Your club can either simply provide the funding, or better yet, show up with the food.
---